Reset Your Debt!
Trying to dig yourself out of debt can often seem like an impossible task - especially when most of the payment is going towards interest. That's why consolidating multiple balances and/or high-interest debt to a fixed-rate personal loan is a sound decision. A personal loan offers a fixed rate over a set period of time. You can spread out payments over years and even pay extra whenever you want because there is no penalty for pre-payment. Plus you know exactly what your projected payoff is - from day one.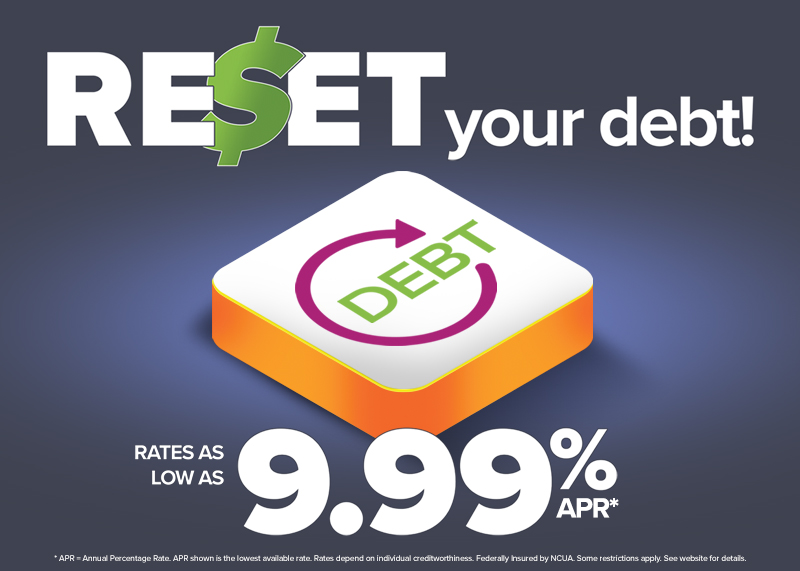 Start Saving Today!
Want to know how much you can save? Take a look at our debt consolidation calculator, then apply online to start reducing your stress and your debt, today!
Fixed rate of 9.99 APR*

Flexible repayment terms

​Borrow as little as $500 or as much as $50,000

​Fixed payments means you'll never be surprised by your monthly payment

No balance transfer or closing fees
Apply Now
What are you waiting for? Consolidate your debt today with this special offer of 9.99% APR.* Don't wait because this rate won't last forever. Apply Now!

Questions? We're here to help! Stop by one of our convenient locations in Southeast Texas, or give us a call at (409) 898-3770.
*APR = Annual Percentage Rate. 9.99% APR promotional rate and loan amount are based on individual creditworthiness and other financial qualifications. The maximum loan term is 24 months. Promotion does not apply to existing Education First loans or credit card balances. The loan must be used specifically for debt consolidation in order to qualify for the special 9.99% APR promotional rate. Offer valid beginning March 15, 2023. Limited time offer; terms and conditions subject to change without notice.
Hear What Our Members Have to Say
"I started banking with EFFCU in 1995 and have never had any issues that were not taken care of immediately. The people at EFFCU have always been kind and willing to help when needed. I cannot complain about the services. We had to move to Wisconsin in 2019, and I am still a member of EFFCU. You have a bank here in Wisconsin linked to you, and I am happy with the services and do not plan on changing banks."
Kay A.
"Convenience, dependability, family-like environment, easy communication and quick. We have never had a problem with Education First."
Elijah and Aimee Murphy
"The people here are the most helpful and friendly staff I have worked with. They will take care of you."
Theresa Ousley
"I started banking with EFFCU in 1995 and have never had any issues that were not taken care of immediately. The people at EFFCU have always been kind and willing to help when needed. I cannot complain about the services. We had to move to Wisconsin in 2019, and I am still a member of EFFCU. You have a bank here in Wisconsin linked to you, and I am happy with the services and do not plan on changing banks."
Anonymous, Member Survey
Have Questions? We're Here to Help